Interviews
UK Crime Book Club – 13th December 2022
Reviews
Financial Times – Adam LeBor 17th May 2022
https://www.ft.com/content/8c9879db-cf43-474e-904e-2c08dd2594ac
The Chemical Cocktail
By Fiona Erskine
Point Blank 400pp £8.99
Literary Review – NJ Cooper – 17th June 2022
Fiona Erskine has written another splendidly energetic thriller featuring Jaq Silver. Like her creator, Jaq is a chemical engineer who works all over the world. She is also physically strong, a powerful swimmer, resilient, resourceful and brave. She is the most wonderful antidote to the limp female victims of gaslighting so common in much crime fiction. Many people have tried to victimise Jaq, from her mother onwards, and she learned to fight back long ago. In The Chemical Cocktail, her mother is dead and some uncomfortable secrets are revealed, taking Jaq back to her unhappy childhood in Lisbon. The secrets and those who want to keep them hidden – or reveal them – lead us from Lisbon to Luanda and on to Brazil, where Jaq follows a trail left by her ancestors. Packed with fascinating science, thrills, shocks and relationships both touching and horrible, this is a terrific read.
Financial Times – Best Summer Books for 2022 : Thrillers 22nd June 2022
https://www.ft.com/content/16de69a2-50a1-4f74-9f40-6b94fd19bc92
Review
Book review: 'The Chemical Cocktail' by Fiona Erskine
By Nick Smith
Published Wednesday, June 22, 2022
The third outing for fictional engineer Jaq Silver is another fast-paced thriller with the magic ingredient of scientific rigour.
It's been a little over three years since we first met Jaq Silver, the central character in Fiona Erskine's all-action debut novel 'The Chemical Detective'. With a typewriter that clacks along at a similar pace to her plotlines, Erskine has delivered the third instalment of her series. And what a difference that short space of time has made. While here at E&T we've been devoted Erskine fans since day one, it's hard to disguise the fact that her novels get better and better every time she goes to press. While we enjoyed book one and were impressed by the second, the third – 'The Chemical Cocktail' (Point Blank, £8.99, ISBN 9780861540334) – moves Erskine out of the 'emerging' category of thriller writer, beyond the velvet-covered ropes, and into the area reserved for those who have arrived. It won't be long before we simply call the series 'the Jaq Silver books'.
As a chemical engineer Erskine likes nothing more than a decent formula, which is precisely what you get with her writing. As with all the best series, there are familiar hallmarks that lock us into the author's world, served up in equal parts with the freshness and excitement of a new adventure. We can now take it as axiomatic that Silver will use her scientific expertise to do something very important, usually against both the odds and the clock, often in some distant and dodgy, politically unstable and exotic location. And we know that Erskine will strike a blow for women in engineering in a credible and forthright manner. She is also annoyingly clever, not just when it comes to chemistry, but at the point of manufacture of her plotlines, which she does with the mechanical watchmaker's craft.
With all these elements in place, 'The Chemical Cocktail' rattles along from Portugal to Brazil, as Silver sets about solving a family mystery that starts with the death of her mother, a valuable inheritance and the key to a long-hidden family secret. It will come as no surprise to aficionados of the Jaq Silver universe that the plot thickens substantially, mainly due to Erskine's cast of villains wanting a slice of the action. Travelling halfway across the planet, Silver fetches up in Brazil's rainforest and goldmines, along the way pitting her wits against distinctly unholy nuns, hired assassins and a ruthless kidnapper.
As the mystery deepens and the threats to her life stack up at every turn, our heroine is forced to deploy her deadliest weapon: her brain. It's exciting stuff. As Erskine writes towards the end – don't worry, no plot-spoilers here – "and God help anyone who got in her way." What sets 'The Chemical Cocktail' apart – the magic ingredient if you like – in a world drowning in average thrillers is that Erskine has applied the intellectual and scientific rigour of her writing to a high-speed, gripping and fun story.
Swansea Bay Magazine – September 2022
https://eandt.theiet.org/content/articles/2022/06/book-review-the-chemical-cocktail-by-fiona-erskine/
Kick-ass chemical engineer Jaq Silver is back in The Chemical Cocktail, Fiona Erskine's third instalment to the critically acclaimed Chemical Detective series. Following the death of her mother, Jaq inherits a strong-box full of secrets which sets her on a whirlwind of a journey from Brazil to Portugal to Teasdale and back again to retrieve the box and save her son. Racing against the clock, Jaq must use her scientific 'know-how' to escape life-threatening situations. Although part three, The Chemical Cocktail works as a stand-alone novel in its own right and would make a terrific TV series.
Erskine – "engineer by day, author by night" – has the unique ability to make something complicated and highly scientific comprehensible to the casual reader, while still making it confusing enough to make you feel intelligent for understanding it. There are plenty of cool, high-tech gadgets — think Nancy Drew in the 21st century — and the if-only-it-were-real multi-functional shoe gizmo is now at the top of my Christmas list. The plot is tight and after a luringly steady start the final hundred pages explode with twists and turns. With a real gift for storytelling, Erskine delivers an endgame that's definitely not what you were anticipating.
Erskine writes vivid, dynamic characters; my favourite is Marina, the gorgeous trans tech genius. Meanwhile, our heroine Jaq is refreshingly female in a male dominated world. She is tough and knows her stuff, but she can also be selfish, using people to get what she wants, and it's her human flaws that make her such a loveable and admirable character. The Chemical Cocktail is an action-packed adventure perfect for any thriller-lover ready for a modern heroine to blow their socks off.
A (fictitious) body wrapped in an enigma and encased in phosphate rock dust
April 30, 2022 | A version of this story appeared in Volume 100, I
Chemically engineered mystery novel
Credit: Courtesy of Fiona Erskine
Chemical detective: Fiona Erskine drew upon her decades of work as a chemical engineer to write Phosphate Rocks.
Fans of mystery novels don't expect their latest read to include a root-cause analysis of a chemical-related industrial accident. But author Fiona Erskine cleverly weaves one into a fictional tale that revolves around identifying a body entombed in hardened phosphate rock dust.
Erskine is a chemical engineer with 40 years of manufacturing experience. As she builds the story in her latest mystery, Phosphate Rocks: A Death in Ten Objects, Erskine gleefully explains chemical reactions and industrial processes and introduces the chemists of yore who discovered or developed them.
The plot follows Detective Inspector Rose Irvine's investigation into the death of the unknown person discovered inside a shuttered fertilizer factory in Scotland. The probe hinges on John Gibson, a longtime shift manager who recalls the plant, its operations, and those who once worked there in intimate detail.
Credit: Sandstone Press
Novel ideas: 10 objects provide clues for readers in this mystery.
The titular 10 objects found with the body trigger Gibson's memories of information that, once assembled, leads to the identity of the dead person. The items are an elephant carved from ebony wood, a bullet, a key ring, an air horn, a Barbie doll, a nutmeg grater, broken sunglasses, a brass washer, an empty whiskey bottle, and an oil can. Good luck adding them all up.
Erskine lays out clues while delving into the processes that the fertilizer plant relied on to blend sources of nitrogen, phosphorus, and potassium. She knows her subject. Her first job after graduation was at a fertilizer factory in the Leith port district of Edinburgh. She borrows the city and the facility as the setting for the novel. She even makes an unflattering cameo appearance in the book, a portrayal she says was drawn from her tenure at the plant.
Erskine tells Newscripts she was inspired to write after reading The Periodic Table, a collection of autobiographical short stories by Italian chemist and Holocaust survivor Primo Levi. The book describes "what it is to be a human being in the midst of evil," she says. But Levi also "writes so movingly about industrial chemistry. He makes it so fascinating."
Part of Erskine's tale is an engaging description—a root-cause analysis—that lays out a series of mistakes a new engineer makes that lead to a devastating accident. "Lots of the process-safety stuff I do involves telling stories of accidents," she says, explaining the link between her industrial background and her fiction writing.
Chapters interspersed with the novel's main tale focus on the chemical reactions the factory's operation used. Several descriptions provoked this Newscriptster to laugh out loud, something chemistry textbooks never did. These factual sections are peppered with historical figures: Jabir ibn Hayyan, Humphry Davy, Katherine Jones (Lady Ranelagh) and her little brother Robert Boyle, and Booker T. Washington, among others.
For instance, a chapter delves into the process for converting diatomic atmospheric nitrogen to ammonia, a form that crops can readily absorb and use. It describes the challenges that Carl Bosch faced and overcame in ramping up Fritz Haber's ammonia-making process to an industrial scale. Erskine pays homage to Clara Immerwahr, who was the first woman awarded a doctorate in chemistry at the University of Breslau and also Haber's wife. Erskine is clearly on the side of those who ascribe Clara Haber's death by suicide—using her husband's pistol—to her strenuous opposition to his work on chemical weapons during World War I.
Erskine wants readers to understand the history and scientific details behind her tale. She says she took the advice of her editor and didn't slow the pace by jamming all this information into the story itself. Instead, the book sports two sets of endnotes for readers who want to dig deeper: a glossary of nonfictional people mentioned and a listing of the cited chemical reactions and processes, complete with equations.
It's a book a chemistry lover could carry along for a fun vacation read.
https://cen.acs.org/safety/industrial-safety/fictitious-body-wrapped-enigma-encased/100/i15
Events
27th January 2022
Noir at the Bar – Edinburgh
8th February 2022
Great Coastal Rail Journeys – Michael Portillo visits Fiona at her day job
https://www.bbc.co.uk/iplayer/episode/m0014c0q/great-coastal-railway-journeys-series-1-12-newcastle-to-lynemouth
12th Feb 2022
Bay Tales – Fiona in conversation with Dr Richard Shepherd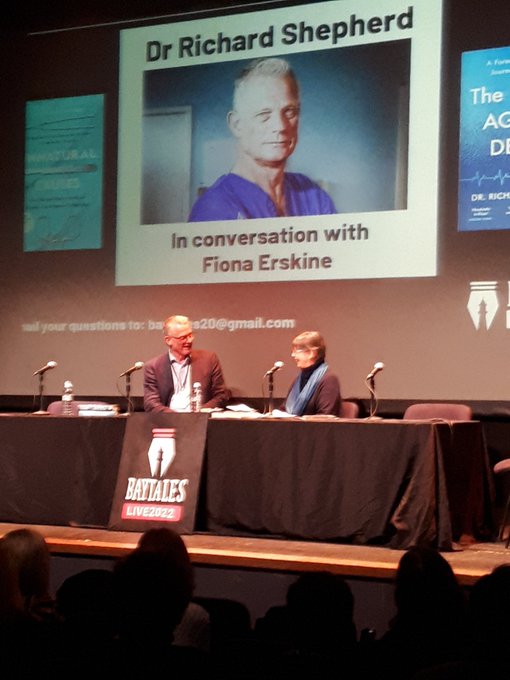 3rd March 2022
Jesmond Library with Trevor Wood
17th March 2022
Gateshead Library – Introducing the Northern Crime Syndicate
Fiona Erskine, Chris McGeorge, Robert Parker, Adam Peacock and Trevor Wood
Morpeth Crime Festival , 9 April 2022
Crimefest , Bristol, Friday 13th May 2022
THIS IS THE MODERN WORLD: SCIENCE, TECHNOLOGY AND SOCIAL MEDIA
Crossing the Tees, Book Festival, Stockton, Sunday June 12 2022
https://www.crossingthetees.org/whats_on/bodies-in-the-library/
Blog Tour
May 19, 2022Emma Minazza rated it it as amazing
I was hooked from the start! This book has a gripping storyline and is a real page turner! I really likes Jaq's role in the book and look forward to reading more from the series in the future!

The writing style was brilliant and I felt a connection between the characters described, I also loved the way the chapters related to different people and places then back again. Also liked the chemical aspect to it and the ending was brilliant!

Would recommend this book!
A cottage full of books link
https://acottagefullofbooks.blogspot.com/2022/06/review-of-chemical-cocktail-by-fiona.html#.Yq8LJXbMK5c
Vonnibee link
https://booknbanter.wordpress.com/2022/06/16/the-chemical-cocktail-by-fiona-erskine/
http://wildwritinglife.blogspot.com/2022/06/random-things-tours-chemical-cocktail.html
https://www.booksbybindu.com/home/TheChemicalCocktail
http://grabthisbook.net/?p=6679
Theakston Old Peculier Crime Festival,
Harrogate, 21 – 24 July 2022
https://harrogateinternationalfestivals.com/news/theakston-old-peculier-crime-writing-festival-2022-programme-line-up-announced/
Book Crossing UNCON 2022
Newcastle 30th July
https://bcuk-uncon2022.weebly.com/authors.html
Edinburgh International Book Festival
Sun 21 Aug 16:15 – 17:15 Northside Theatre
https://www.edbookfest.co.uk/the-festival/whats-on/fiona-erskine-alex-gray-helen-sedgwick-secrets-and-lies
Bloody Scotland
15-18 September, Stirling, Scotland
https://bloodyscotland.com/events/the-broad-church-of-scottish-crime-emma-christie-andrew-james-greig-fiona-erskine-and-tariq-ashkanani/